Cast About #4
Finally, a face to face IMA meeting. IMA organizations attending were LSMC, IMTT, SHAWNEE, QUAD CO., FRV, SSMH. Meeting minutes will be sent out by Ron. Representatives attending were: Warren and June Thompson, Ron Skala, Jim Beatty, Duane Landemeier, Rob Hawbaker, Jim Ozee, Pete Barber, Bob Kerans. more....


Cast About #3
June 1st, summer finally here (?). This past year has sure been something else, as all are well aware. This will be a somewhat shorter newsletter as a complete June 26 information packet will be mailed to each officer, president, delegate and alternate in a week or two. IDNR WISH LIST: Each received the wish list from IDNR a while back. Not knowing what Airstones were, I asked Scott Shasteen for help. more....


Cast About #2
Hi Muskie Hunters, Here we go, after a long year of obstacles to overcome, we are now ready to move into a more aggressive mode as far as Muskie fishing/catching is concerned. Even though the Muskie family in Illinois is small in comparison with other angling groups, we can take pride in our dedication, commitment, and camaraderie. For sure a very special group! more....


Cast About #1
Some of you will remember the April fool jokes from your elementary school years, and yet others are still young enough at heart to still appreciate a good laugh. Probably not funny to call your fishing buddy up and report a 52" Muskie and then to say "April fool". One of the many goals of the IMA is to raise the bar as far as inter-communications is concerned. I will admit, up front, can't do this without your help! While the Illinois Muskie community is small, the intensity and excitement high. The sharing of information and the nurturing of camaraderie among Muskie anglers so very important. Hopefully our "Cast About" monthly newsletter will contribute to the success of our mission. More Muskies, more catches and more fun! We'll be happy to share your Club news, events and successes with all the IMA Clubs. But we can only more....


The IMA Board welcomes Bob Kerans!
The IMA Board welcomes Bob Kerans as the new head of the Illini Muskies Alliance. Bob is no stranger to the Illinois muskie community. He's been a long time member of the Lake Shelbyville Musky Club and the Shawnee Muskie Hunters. Bob is also the founder of the Illinois Muskie Tournament Trail. He's been a long time IMA member as both a Delegate and Board member. In 2017, he was elected to the IMA Hall of Fame. As a long time advocate for the Illinois muskie fishery, Bob will continue to strengthen the IMA's relationship with the Illinois Department of Natural Resources Fisheries Division and the Jake Wolf Hatchery.

Let's welcome Bob as our new Chairman.

Pat Glavin
IMA Vice Chairman.
Prairie Lake Tagging
Biologists tagging a muskie

IDNR biologists conducted an annual, spring trap net survey on Jim Edgar Panther Creek State Fish and Wildlife Area's Prairie Lake to assess the muskie population on 3/26 - 3/28. They collected a total of 47 muskie in 48 trap net nights measuring up to 47.0" and weighing up to 36.8 lbs. They collected 23 females and 24 males with 3 fish weighing over 30 lbs. All fish were in excellent body condition.

IDNR started conducting a population estimate and age and growth study on Prairie Lake muskie in 2016 using PIT tags (Passive Integrated Transponder), which are small electronic tags that have a unique ID number that allow them to identify individual fish. They are inserted near the dorsal fin of the fish and can only be located and read by a PIT tag reader. During the 2018 spring survey, we collected 34 new fish and 13 recaptures (1 fish was captured three years in a row).
Prairie Lake Muskies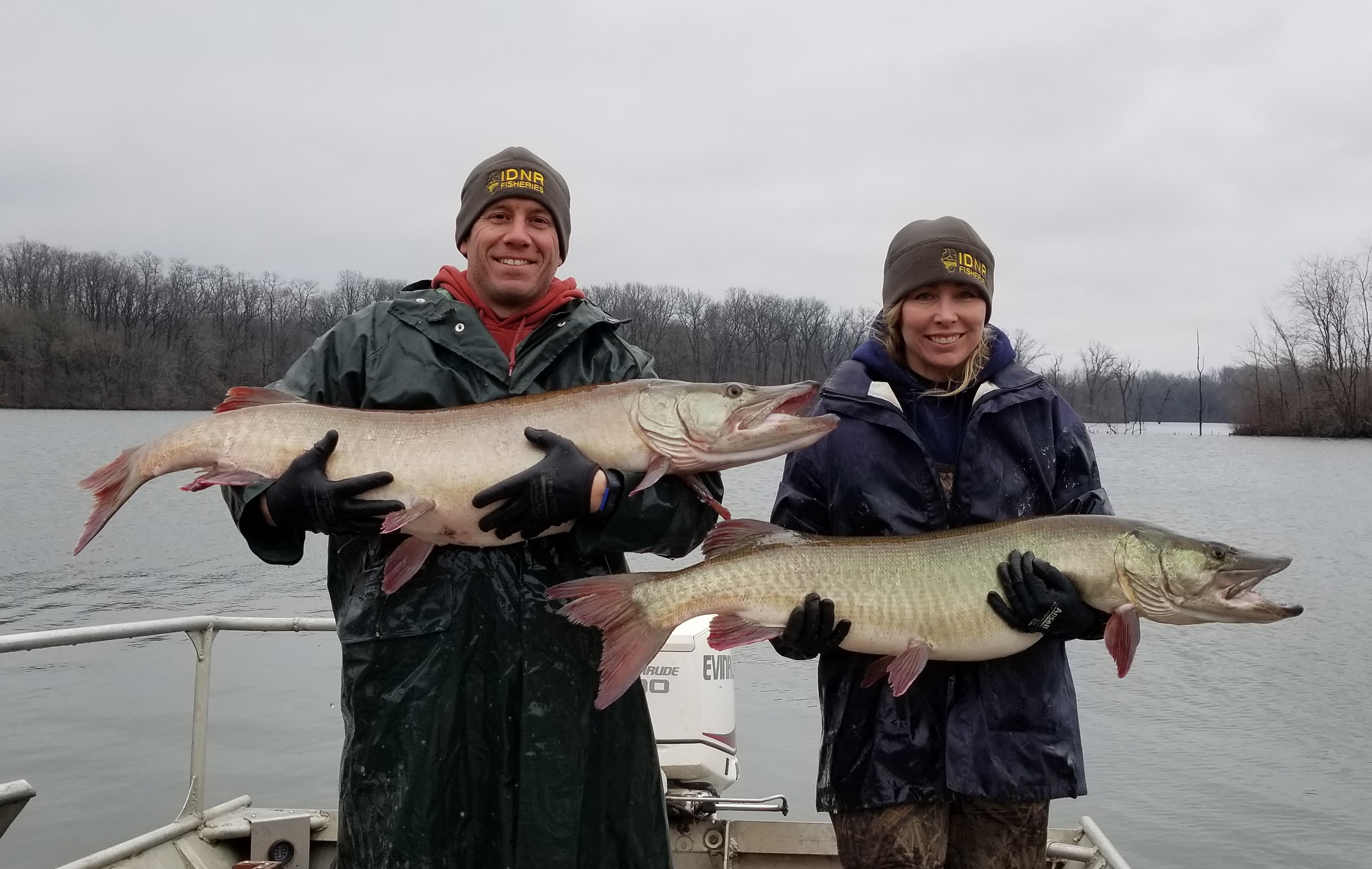 Pictured are a 46.4" - 33.8 lb fish on the left and a 45.3" - 26.9 lb fish on the right.